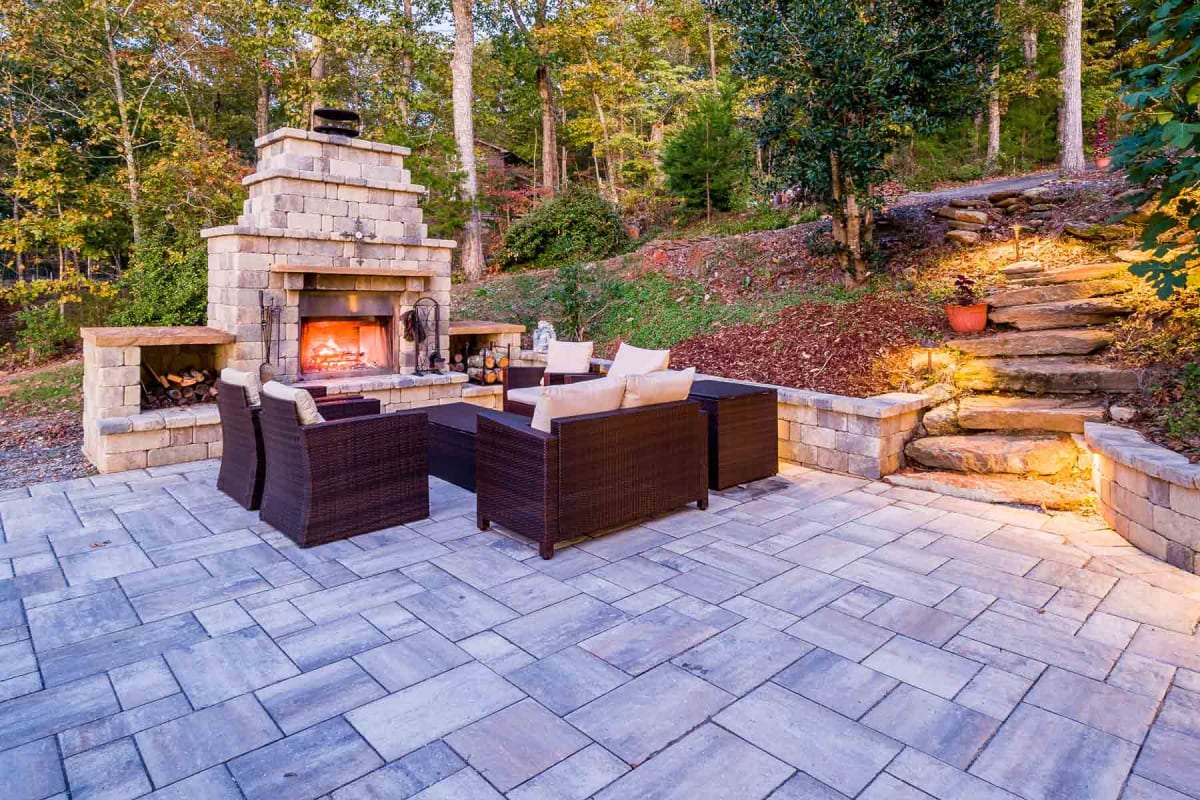 How much does bluestone cost?
How much does bluestone cost?
$6 – $14
average cost per square foot (materials only)
$15 – $31
average cost per square foot (materials & installation)
$3,000 – $12,400
total cost installed (200 – 400 SF patio)
---
Get free estimates for your project or view our cost guide below:
$6 – $14
average cost per square foot (materials only)
$15 – $31
average cost per square foot (materials & installation)
$3,000 – $12,400
total cost installed (200 – 400 SF patio)
---
Get free estimates for your project or view our cost guide below: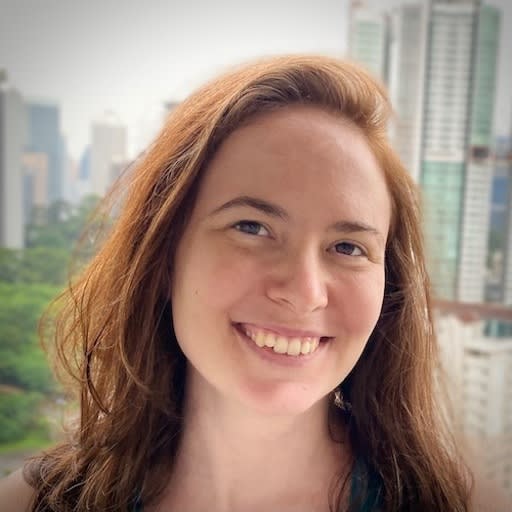 Fact-checked by
Tom Grupa
Average cost of bluestone patio pavers
Bluestone pavers cost $15 to $31 per square foot installed on average. Natural cleft bluestone prices are $6 to $11 per square foot for materials only, while thermal bluestone prices are $9 to $14 per square foot. A 10'x20' bluestone patio costs $3,000 to $6,200 installed.
Bluestone pavers cost

| Paver patio size | Square feet | Total cost installed |
| --- | --- | --- |
| 6'x9' | 54 | $800 – $1,675 |
| 10'x10' | 100 | $1,500 – $3,100 |
| 10'x20' | 200 | $3,000 – $6,200 |
| 12'x12' | 144 | $2,150 – $4,450 |
| 12'x24' | 288 | $4,300 – $8,900 |
| 15'x15' | 225 | $3,375 – $6,975 |
| 20'x20' | 400 | $6,000 – $12,400 |
| 24'x24' | 576 | $8,650 – $17,850 |
| 30'x30' | 900 | $13,500 – $27,900 |
Bluestone costs vary according to the project size of the walkway, firepit surround, or patio.

Bluestone is an ideal paver around water features like pools, fountains, ponds, and hot tubs because it's water-resistant and durable.
Bluestone prices by type & finish
Bluestone prices are $6 to $14 per square foot on average, depending on the type and finish. The cheapest type is natural and untreated bluestone with slightly uneven surfaces.
Bluestone prices by type

| Bluestone type | Material price per square foot | Cost per square foot installed |
| --- | --- | --- |
| Thermal / flamed | $9 – $14 | $18 – $31 |
| Natural cleft | $6 – $11 | $15 – $28 |
Irregular vs. tumbled bluestone – Naturally uneven bluestone shapes are up to 4 times cheaper than tumbled bluestones cut into symmetrical shapes. However, installing irregular shapes takes longer, which increases labor fees.

Other surface-finish treatments –For paving transitions between the home and outdoors, honed or polished bluestone costs more but looks more exclusive. Honed bluestone has a smooth sanded top and matte finish, and polished bluestone is as glossy as stone countertops.

Color range – Higher prices apply for sets of bluestone with only 2 shades of blue, called "blue/blue." The "full range" bluestone sets have 5 to 9+ naturally occurring color variations and cost slightly less.

Mine & quarry location – Specialty types like Pennsylvania and Shenandoah bluestone typically come only from those areas. Delivery over long distances will raise installation costs.
Thermal bluestone prices
Thermal bluestone prices are $9 to $14 per square foot without installation. These saw-cut pavers have a uniform size with a heat-treated surface that reveals the natural non-slip texture. While more expensive than natural cleft, this "flamed" type has a more even surface.
Common for patios

Stable surface for chairs

More durable and smoother than natural-cleft bluestone

Matte finish
Natural cleft bluestone prices
Natural cleft bluestone prices are $6 to $11 per square foot, excluding installation. Unlike sawed bluestone that has a smooth surface, these split-face stones have irregularly shaped top surfaces. This type is cheaper than thermal bluestone, with natural color variations.
Common for walkways due to the slip-resistant surface

Bigger color variations

Square or rectangular paver shapes

Straight or rounded edges

Unsuitable under chairs due to the slightly uneven surface
Bluestone paver patio cost estimator
Bluestone paver patio installation labor costs $9 to $17 per square foot. Extra fees will apply according to the amount of site preparation needed before installing the pavers.
Bluestone paver patio installation cost

| Factor | Average cost per square foot installed | Average total cost (200 – 400 SF patio) |
| --- | --- | --- |
| Bluestone pavers | $6 – $14 | $1,200 – $5,600 |
| Installation labor & supplies | $9 – $17 | $1,800 – $6,800 |
| Total cost installed | $15 – $31 | $3,000 – $12,400 |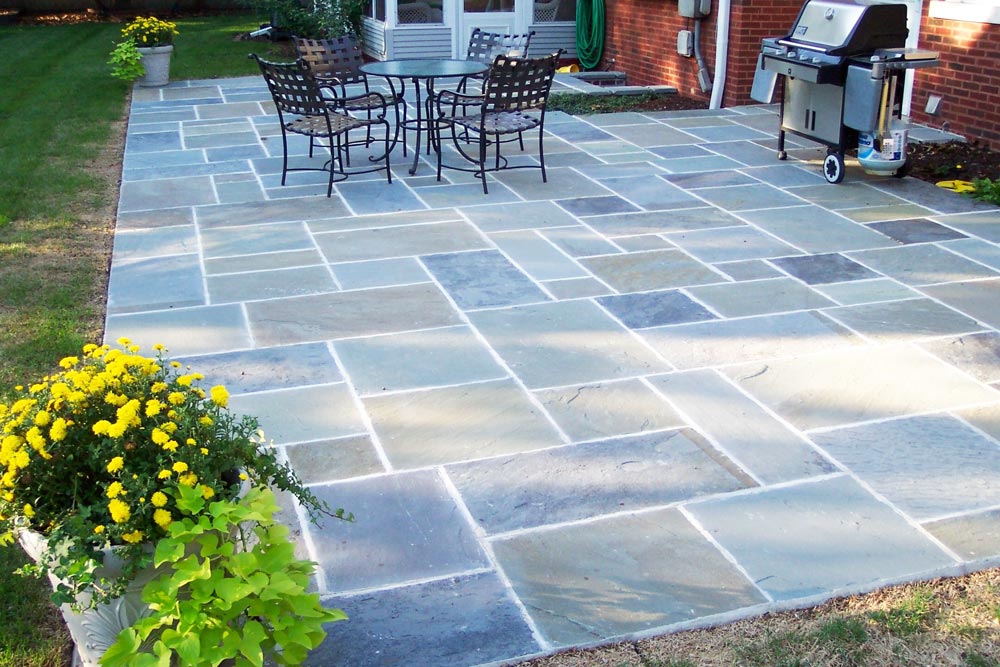 Cost factors include:
Stone quality & size – Natural and untreated bluestone is cheaper than flamed bluestone cut into designer shapes with special finish.

Edging – Landscape curbing costs $5 to $18 per linear foot to hold the patio border in place with a rim of concrete.

Permit – A permit costs $200 to $300 for 200- to 400-square-foot patios.

Stone base – Gravel prices are $10 to $50 per ton. A compacted 4" to 10" base costs $2 to $5 per square foot installed and keeps the pavers level. The gravel thickness varies depending on local ground conditions.

Dry-laying surface – Sand costs $15 to $50 per cubic yard delivered, or $50 to $150 per ton. Most contractors use sand above the gravel for dry-laid stones because sand allows for drainage.

Installation method – Dry-laid stone patios cost less while concrete-set stones cost the most to install.

Demolition – Old paver removal costs $1 to $5 per square foot. Concrete removal costs $3 to $8 per square foot to tear out an old slab.

Sealant – Applying a masonry moisture-blocking sealant costs $2 to $10 per square foot. Sealants shield porous stone against staining, cracking, and color fading from the sun.

Total job size – Larger jobs are cheaper per square foot. Prices increase slightly for smaller jobs according to the minimum fees of the company.

Custom stone cutting – Higher labor fees apply for installing a semicircle or curved-border design since many stones need exact cutting by hand onsite.

Rainwater management – A drainage system costs $1,000 to $4,000 to direct water off of the patio if the system isn't a dry-laid permeable type.

Weed barrier – Landscape fabric material prices are $0.05 to $0.25 per square foot for various types. Installers place this barrier under the gravel base for pavers to stop gravel from sinking down into the ground.
Labor cost to install bluestone patio
Labor costs to install a bluestone patio are 60% to 70% of the total price.
Rates vary according to the type of contractor hired:
Bluestone patio features and upgrades
Common features and upgrades include:
Cost of bluestone vs. other materials
A regular concrete or brick paver patio costs $10 to $17 per square foot installed on average. The table below shows other paver material prices and installation costs:
Bluestone pavers pros and cons
The following tables shows the advantages and disadvantages of bluestone:
Pros and cons of bluestone pavers
Pros
Cons

Durable enough to outlast concrete
Weather resistant
Attractive & boosts curb appeal
Naturally non-slip surface
Fade resistant

Expensive
Prone to flaking when unsealed
Needs professional installation
Can get hot under direct sunlight
Bluestone pavers FAQs
What is bluestone?
Bluestone is natural basalt stone formed from cooled lava. Some types are more durable than limestone and sandstone and absorb less water. Other suppliers classify certain sandstone and limestone types as "bluestone" too. Most bluestone comes in various shades of dark blue and gray.
How long do bluestone pavers last?
Bluestone pavers last 35 to 50 years with proper maintenance. However, the highly porous surface can flake off and crack after 1 year if no sealant is applied. Continue resealing bluestone every 1 to 2 years to protect its color and prevent stains.
Can you install bluestone pavers over a concrete patio?
You can install bluestone pavers over a concrete patio if it's reinforced concrete with the correct slope for drainage. Installation involves applying wet mortar to the existing concrete slab before setting bluestones in place and filling joints with sand, mortar, or grout.
Where to buy bluestone
You can buy bluestone pavers from:
Paver and tile manufacturers online

Local stone and paver mills

Masonry supply outlets

Home improvement stores

Quarry suppliers

Landscaping supply companies
Getting estimates for bluestone pavers
Before hiring a bluestone patio contractor, be sure to:
Collect at least 3 bids from several contractors.

Select licensed, insured, and bonded companies with 5+ years of experience.

Look for certifications as an ICPI Residential Paver Technician or from a masonry association.

Read their reviews on HomeGuide and Google.

Get copies of the estimate, contract, and warranty before work begins.

Beware of the lowest prices that typically indicate low-quality results.

Never make the last payment before the job is complete.
Questions to ask
How many bluestone patios have you installed?

Can I see a list of references and pictures of past installations?

How will I contact the project manager, and will you bring subcontractors?

If accidental damages happen on the job, how will you handle them?

Will you pull all permits?

Do you check for underground utility lines before digging?

What will you use for the base under the stone pavers?

Will you compact and level the base before installing paver stones?

Which stones do you recommend, and do you need to apply a sealer to them?

Is it better to set pavers in concrete or to dry-lay the stones in sand?

What are my options for edging?

Are you familiar with building codes for patios in this area?

Does this bid include all materials, delivery fees, labor, prep work, and cleanup?

How long will this job take?

What does your warranty policy include?

How much space will you need for the crew and equipment?

What is your payment schedule?