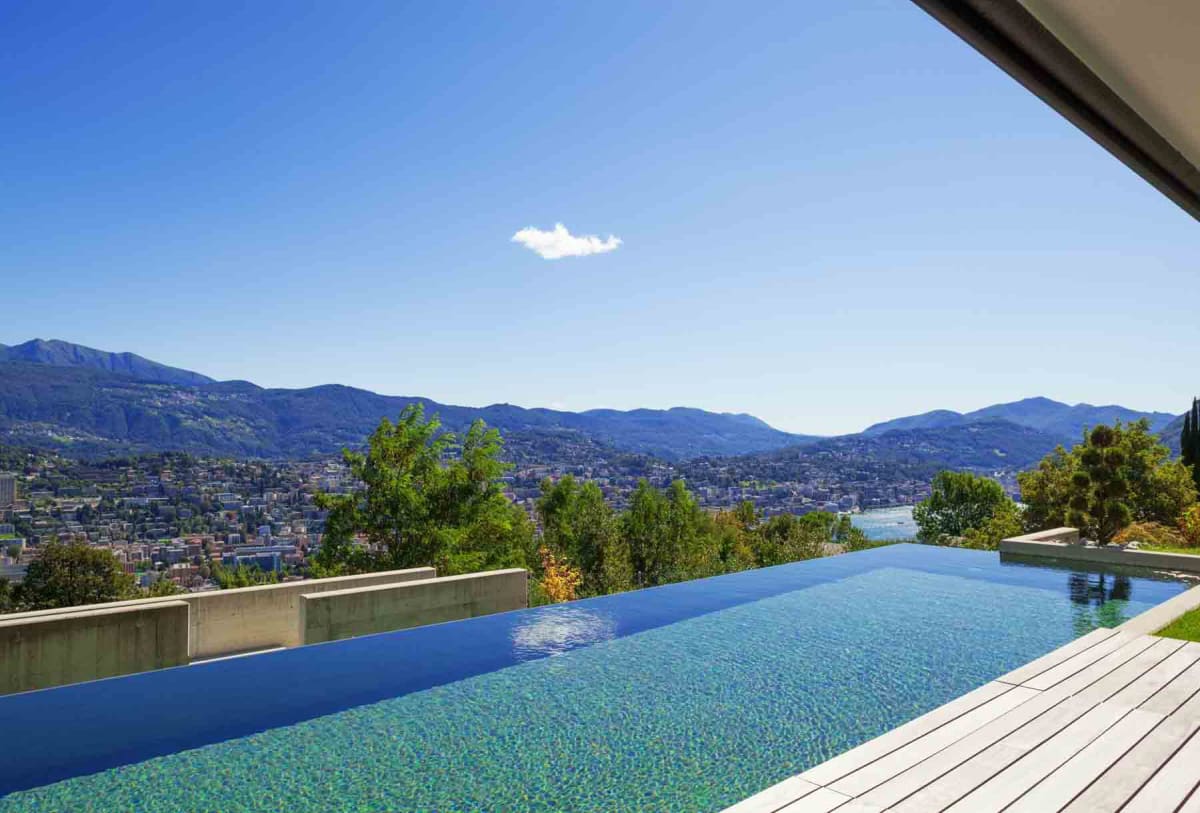 How much does an infinity pool cost?
How much does an infinity pool cost?
$100 – $300
cost per square foot installed
$60,000 – $150,000
average total cost
---
Get free estimates for your project or view our cost guide below:
$100 – $300
cost per square foot installed
$60,000 – $150,000
average total cost
---
Get free estimates for your project or view our cost guide below: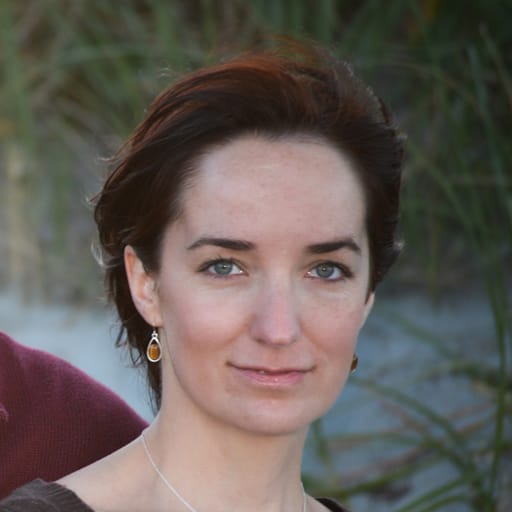 Fact-checked by
Kristen Cramer
Average infinity pool cost
An infinity pool costs $100 to $300 per square foot installed, or $60,000 to $150,000 total on average. The cost of infinity pool installation depends on the size, type, material, and features. Infinity edge pools are also called knife edge, zero edge, infinite edge, disappearing edge, and vanishing edge pools.
Average infinity pool cost

| | |
| --- | --- |
| National Average Cost | $105,000 |
| Minimum Cost | $20,000 |
| Maximum Cost | $240,000 |
| Average Range | $60,000 to $150,000 |
What is an infinity pool?
An infinity pool is a swimming pool with at least one edge that is flush with the water level, creating an optical illusion that the pool goes on forever. Water flows over the edge into a catch basin where it is filtered and cycled back into the pool.
The visual effect created with an infinity pool is ideal for waterfront properties with unobstructed views, but the style is becoming popular for any property with aesthetically pleasing views.
Get free estimates from pool installation companies near you.
Infinite edge pool cost by size
Size is a major factor in determining the cost of an infinity pool. Larger pools require more materials and take longer to build than smaller pools.
Infinite edge pool cost by size

| Pool size | Square feet | Average installed cost |
| --- | --- | --- |
| 10'x20' | 200 | $20,000 – $60,000 |
| 12'x24' | 288 | $28,800 – $86,400 |
| 15'x30' | 450 | $45,000 – $135,000 |
| 16'x32' | 512 | $51,200 – $153,600 |
| 18'x36' | 648 | $64,800 – $194,400 |
| 20'x40' | 800 | $80,000 – $240,000 |
Vanishing edge pool cost factors
Factors that influence the cost of an infinity pool include:
Size – The larger the pool, the more materials and labor required to build it.

Number of edges – The vanishing edge of an infinity pool requires skilled engineering and precise construction. Installing a pool with multiple vanishing edges increases the cost.

Above ground vs. inground – Most infinity pools are semi-inground, but above-ground installation is possible and typically involves an integrated deck.

Water – The cost to fill a pool with water is $40 to $2,000, depending on whether you fill it using a water delivery service or your home's garden hose.

Maintenance – Pool maintenance costs $80 to $150 per month. Infinity pool maintenance typically falls at the high end of this range as they are more difficult to clean than a standard pool. Operating the pool also costs more than average due to the extra water filtering and recirculating from the catch basin.
Material
Fiberglass and vinyl are the most cost-effective choices, but vinyl liners rip and tear more easily than other materials and aren't common for luxurious infinity pools. Concrete and tiled infinity pools cost the most but are also the most durable.
Infinity pool materials
Pool material
Price range
Pros
Cons
Vinyl
$

Budget-friendly
Easy to clean

Least durable
Not ideal for saltwater systems

Fiberglass
$$

Ideal for saltwater systems
Easy to clean

Higher maintenance costs
Not as customizable

Concrete
$$$

Expensive
High maintenance
Takes months to build

Tile
$$$$

Luxurious aesthetic
Highly customizable

Expensive
Tedious installation process
Labor
The labor cost to install an infinity pool ranges from $50 to $240 per square foot, or 50% to 80% of the total project cost, depending on the site conditions, pool type, and features. Installation typically involves several skilled professionals.
Additional costs
An infinity pool is often part of a larger outdoor entertainment experience. Consider the following upgrades and additional costs when calculating your infinity pool budget.
Infinity pool upgrade costs
Feature
Average installed cost
Pool features
Glass wall or window
$17,000 – $100,000+
Pool lighting
$700 – $1,800
Diving board
$300 – $700
Pool slide
$1,000 – $4,000
Pool heater cost
$1,600 – $5,200
Pool waterfall cost
$2,000 – $8,000
Pool cover cost
$1,000 – $3,600 (manual)
$8,000 – $20,000 (automatic)
New pool enclosure cost
$20,000 – $70,000
Outdoor enhancements
Fire pit cost
$325 – $2,000
New landscaping cost
$3,000 – $16,000
Outdoor kitchen cost
$7,000 – $16,000 (pre-built)
$10,000 – $35,000 (custom)
Patio cost
$5 – $35 per square foot
Deck cost
$25 – $50 per square foot
Pool house cost
$150 – $600 per square foot
Fence installation cost
$20 – $60 per square foot
Zero edge pool cost vs. traditional pools
A zero edge pool costs $100 to $300 per square foot installed, or 20% to 25% more than the cost to build a pool in a traditional style.
Get free estimates from pool installation companies near you.
Infinity pool FAQs
Are infinity pools safe?
Infinity pools are as safe to swim in as standard swimming pools. All swimming pools can be dangerous and should be treated as such. Infinity pools also require an extra basin to catch the water flowing over the edge, which can increase the potential danger depending on its location and accessibility.
How long does it take to install an infinity pool?
Installing an infinity pool takes 12 to 20+ weeks, depending on the size, material, design, and features. Concrete infinity pools take the longest to install because the material needs time to cure and dry.
What is the difference between an infinity pool and an endless pool?
An infinity pool has at least one edge flush or slightly lower than the water level, with a visual effect of water overflowing and the pool extending into the horizon. An endless pool, or swim spa, is a pool that generates a current to swim against.
Endless Pools is also a brand name for a line of swim spas and other water exercise and therapy tools. A swim spa from Endless Pools costs $26,000 to $75,000+ with delivery and installation, while the average cost of a swim spa $20,000 to $40,000 installed.
Getting estimates from infinity pool contractors
Follow these tips when searching for an infinity pool installation company near you:
Compare 3 to 5 quotes with similar details from companies that have been in business for 5+ years.

Look for active members of the Association of Pool and Spa Professionals (APSP) with positive customer feedback on HomeGuide and Google.

Beware of extremely low bids, as this may indicate lack of experience or low-quality work.

Contact one of these professionals for an installation estimate, depending on the type of infinity pool you're looking to build:

Get a detailed contract and warranty in writing before the pool installation starts.

Avoid making large payments up front and never pay in full until the job is complete.
Questions to ask an infinity pool installer
Ask these important questions to help you choose the best contractor for your infinity pool installation:
What experience do you have building infinity pools?

Is your company licensed, bonded, and insured?

Can you provide a list of references?

How long will the installation take?

How should I prepare my yard?

Do you do the installation yourself, or do you use subcontractors?

Who is my main point of contact during the installation?

Do you offer support if I have any questions or problems after installation?

How much deposit do you require?

Do you offer financing?

How much will it cost to maintain this infinity pool?

How often do I need to change the pool water?

Do you offer an ongoing pool maintenance plan?

Do you offer a warranty, and what does it cover?