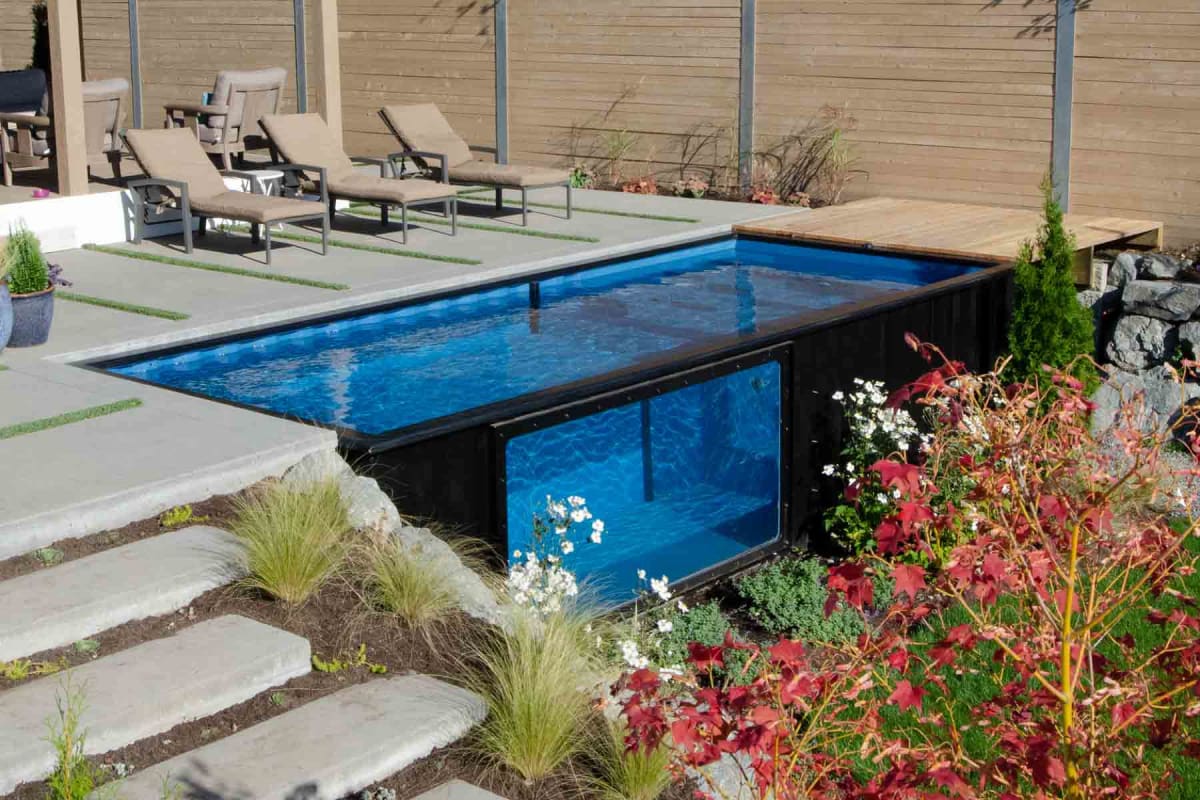 How much does a shipping container pool cost?
How much does a shipping container pool cost?
$35,000 – $65,000
average installed cost
---
Get free estimates for your project or view our cost guide below:
$35,000 – $65,000
average installed cost
---
Get free estimates for your project or view our cost guide below: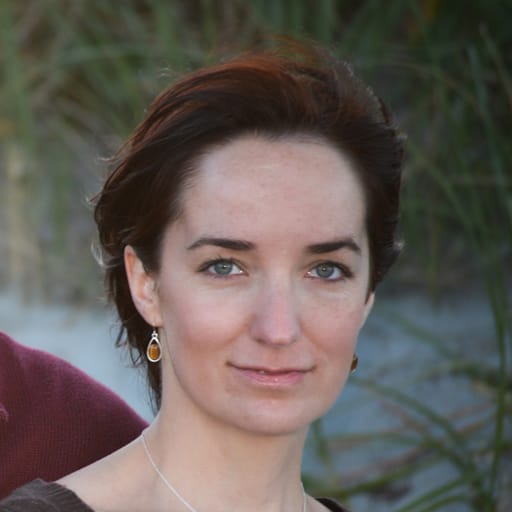 Fact-checked by
Kristen Cramer
Average container pool cost
A shipping container pool costs $35,000 to $65,000 on average, including delivery and installation. Most homeowners spend about $50,000 total for an 8'x20' model. Container pool prices alone are $28,000 to $85,000. Container pool costs depend on the pool size, features, site conditions, and if it's above ground or inground.
Average cost of a shipping container pool

| | |
| --- | --- |
| National Average Cost | $50,000 |
| Minimum Cost | $16,000 |
| Maximum Cost | $99,000 |
| Average Range | $35,000 to $65,000 |
In comparison, a standard above-ground pool costs $1,800 to $5,000 total for the pool and installation labor. A traditional inground pool costs $25,000 to $100,000 installed.
Shipping container pool price by size
Most shipping containers are 8' wide and 20' to 40' long, so these are the most common sizes for shipping container pools. Some manufacturers offer additional modified sizes, like an 8'x12' plunge pool for homeowners with limited yard space or larger 12'-wide models for those with more yards to work with.
Container pool prices by size

| Pool dimensions (in feet) | Average price* |
| --- | --- |
| 8x12 | $26,000 – $41,000 |
| 8x20 | $28,000 ­­­­­­­– $50,000 |
| 8x40 | $45,000 ­­­­­­– $80,000 |
| 12x20 | $30,000 – $56,000 |
| 12x40 | $50,000 ­­­­­­– $85,000 |
*Not including delivery and installation
Container pools cost factors
Factors that affect the cost include:
Size ­­­­­­– Larger shipping containers cost more to purchase, their weight makes them more expensive to ship, and they may require a larger crane to install. If you're installing an inground container pool, a larger size also means more excavation.

Foundation – Installing an above-ground shipping container pool requires a solid, level surface, typically compacted gravel, a concrete slab, or concrete footings.

Reinforcement requirements – Shipping container pools need additional structural support for the walls to hold the water pressure of a filled pool. Companies that build container pools typically include these reinforcements with purchase.

Above ground vs. inground – An above-ground pool costs less to install than an inground pool that requires excavation and often additional planning like a land survey and soil testing.

Brand – Large brands like TrekPools and Tangle Pools charge more but provide a higher quality product. They also tend to offer more customization than smaller companies.

Water – Pool water delivery costs $200 to $600 for a truckload up to 6,000 gallons. Alternatively, the cost to fill a pool yourself with a garden hose is $4 to $10 per 1,000 gallons.
Liner material
Container pool liners cost $1,000 to $4,000+, depending on the material and whether the pool is above ground or inground. Liners may be vinyl, fiberglass, concrete and plaster, or other waterproofing materials like epoxies and polymers. Vinyl liners typically cost the least but need more frequent replacement.
Container pool companies typically include the liner in their base price as it is part of the modification that transforms the shipping container into a watertight swimming or lounging pool. Adding interior stairs, benches, and other details that require additional fabrication and welding increase the cost.
Labor
Installation labor makes up 25% to 50% of the total cost for a container pool, depending on the location and whether it's inground or above ground. As with traditional swimming pools, installing an inground container pool typically requires more labor than installing one above ground.
Most container pool installations require the following labor:
Contractors charge $50 to $150 per hour to coordinate and oversee the installation.

Plumbers charge $75 to $150 per hour to connect the pool to the property's water system.

Electricians charge $50 to $130 per hour to set up the electrical connections for the pumps and lighting.

A crane operator costs $500 to $1,500+ to move the container pool over the house to the backyard.

Permits cost $500 to $2,000 to install a backyard container pool, depending on the project scope.
Additional costs
Container pools can be simple or highly customized. Additional costs and customizations to consider when installing a container pool include:
Additional container pool costs

| Feature | Average installed cost |
| --- | --- |
| Container features | |
| Bench | $2,800 – $9,500 |
| Electric cover | $9,500 – $11,000 |
| Interior color or pattern | $500 – $1,500 |
| Jets | $2,000 – $3,000+ |
| Ladder | $600 – $800 |
| Lighting | $200 – $1,000 |
| Manual cover | $4,500 – $7,000 |
| Pool heater cost | $1,600 – $5,200 |
| Pump and filtration system | $1,000 – $2,000 |
| Stairs | $500 – $5,000 |
| UV disinfection lighting | $1,500 – $1,600 |
| Wall window | $4,500 – $9,000 |
| Outdoor enhancements | |
| Deck building cost | $25 – $50 per square foot |
| Fence installation cost | $20 – $60 per square foot |
| Patio installation cost | $5 – $35 per square foot |
Maintenance
Professional pool maintenance costs $80 to $150 per month on average for weekly or bi-weekly cleaning service. Maintaining a shipping container pool typically involves the same equipment and costs as maintaining a traditional pool.
An automated cleaning system increases the upfront pool cost by $4,000 to $5,000+ but reduces the ongoing maintenance needs.

Heated pools and pools with upgraded features typically cost more to run. These features also increase the number of parts that can break or need eventual replacement.
Container pool pros and cons
A shipping container pool is an environmentally friendly investment that costs less than most inground pools and typically requires much less time to install. However, the container size and shape limitations means they aren't the best choice if you want a diving board or slide.
Shipping container pools pros and cons
Pros
Cons

Cheaper than traditional inground pools
Thick, durable steel walls
Fabricated offsite, reducing property disruption during installation
Easy to install and lasts up to 30 years
Portable; can take with you if you move
May increase home value
Eco-friendly

Limited size and shape options
Not suitable for diving boards or pool slides
May rust over time
Typically not insulated
May be expensive to heat or cool
Does not work well with salt water systems
DIY container pool vs. professional
You can find used shipping containers for $2,000 to $7,000+. However, a lot more goes into making a container pool than just the container. Manufacturers make major modifications to create a smooth, watertight interior, add details like steps, ledges, and lighting, and connect the plumbing and electrical components.
While it's possible to install a container pool yourself if you have the necessary equipment and skills, hiring experienced professionals ensures the job is done correctly, safely, follows all state and local regulations, and will last a decade or more.
Container pools FAQs
What is a container pool?
A container pool is a swimming or lounge pool made from a repurposed shipping container. Fabricators remove the top, weld the interior watertight, often modifying it to include details like steps or benches. The container is lined and sprayed with a protective coating and reinforced to support being filled with water.
Shipping container pools may be installed above ground, inground, or partially inground.
How long does it take to install a shipping container pool?
Installing a shipping container pool takes one day to a week or more for the actual installation and setup. However, the production time for shipping container pools ranges from several weeks to several months, depending on the company and design.
Do shipping container pools rust?
Shipping container pools are made of steel and may rust if the surface is not protected or maintained. Most container pools are lined with fiberglass, vinyl, or concrete and plaster, and coated with a waterproofing or zinc paint to prevent rust.
How long will a shipping container pool last?
A shipping container pool lasts 10 to 30 years, depending on the age and condition of the container, and how well it is maintained once it's modified to be a pool. Containers used in oceanic transport for several years may have shorter lifespans than those not subject to such harsh conditions.
Are shipping container pools cheaper than other pools?
Most shipping container pools are cheaper than a typical inground pool, but more expensive than traditional above-ground pools made from less durable materials. Still, the price for a container pool can jump higher than both traditional style pools for a fully custom inground container pool with all the luxury extras.
Who sells shipping container pools?
While ModPools is the company commonly associated with shipping container pools, the ModPool brand is not your only option. Other companies selling custom shipping container pools include:
Cargeaux Pools

Containers In Motion

Ecopool

Midwest Container Pools

Safe Room Designs

Tangle Pools

Trek Pools
Getting estimates from shipping container pool installers
Container pool installation typically involves several professionals and many moving parts. Follow these guidelines when searching for a container pool dealer or pool installation company near you:
Compare at least three quotes with similar details from companies that have been in business at least 5 years.

Look for members of the Association of Pool and Spa Professionals (APSP) with consistent positive reviews on HomeGuide and Google.

Be wary of extremely low estimates, as this may indicate lower quality work or lack of experience.

If the container pool dealer provides delivery only, reach out to one of these professionals for an installation quote:

Make sure you have a detailed contract and warranty in hand before the installation begins.

Avoid making large upfront payments and never pay in full until the installation is complete.
Questions to ask a shipping container pool contractor
Ask these important questions to help you choose the best container pool dealer and installation contractor for your project:
How long have you been in business?

Are you licensed, bonded, and insured?

Do you install the container pool, or just deliver it?

Have you handled a container pool installation like this one before?

Are the containers you modify new, used, or used one-trip containers?

What kind of site prep do you do, and how should I prepare my yard before the installation?

Can you provide a list of references?

Will you show me how to run and maintain the pool?

How often do I need to change the water?

Do you offer technical support if I have any questions or issues after installation?

Which features do you include, and which cost extra?

Do you offer financing?

How much deposit do you require?

What is your current lead time?

What extra costs come up during an installation like this?

How long will the container pool last?

How much will it cost to maintain the container pool?

Do you offer an ongoing pool maintenance plan?

Do you offer a warranty, and what does it cover?