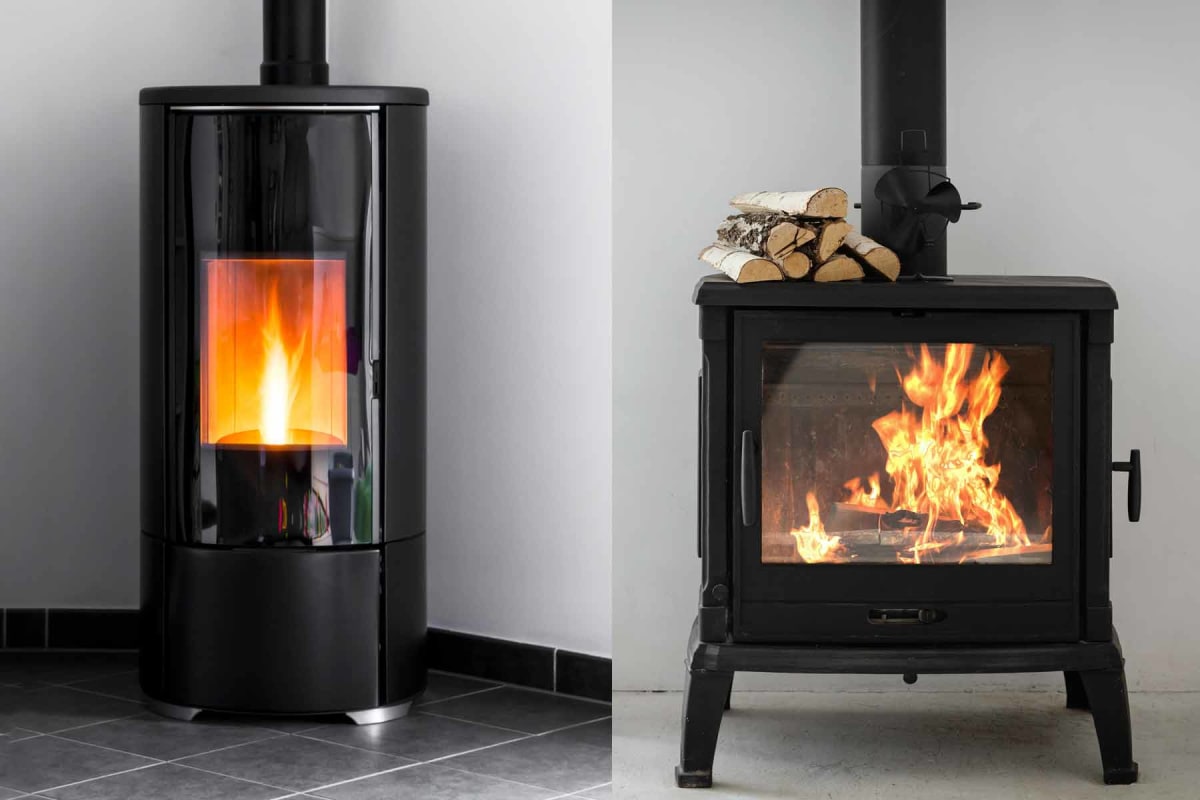 Pellet stove vs. wood stove
Pellet stove vs. wood stove
$1,600 – $4,100
pellet stove cost installed
$1,200 – $4,500
wood stove cost installed
---
Get free estimates for your project or view our cost guide below:
$1,600 – $4,100
pellet stove cost installed
$1,200 – $4,500
wood stove cost installed
---
Get free estimates for your project or view our cost guide below: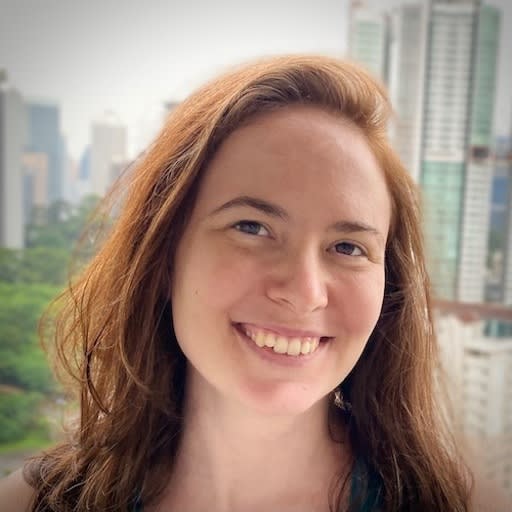 Fact-checked by
Tara Farmer
Wood stove vs. pellet stove cost
A wood stove costs $1,200 to $4,500 installed vs. a pellet stove installation that costs $1,600 to $4,100 total. Pellet stoves use wood pellets for fuel and are eco-friendly but need constant electricity. Wood stoves use firewood for fuel and have a longer lifespan but may contribute to air pollution and carbon emissions.
Pellet stove vs. wood stove comparison

| Factor | Pellet stove | Wood stove |
| --- | --- | --- |
| Cost | $1,600 – $4,100 installed | $1,200 – $4,500 installed |
| Fuel | Pellets | Firewood |
| Appearance | Modern design | Rustic charm |
| Ease of use | Variable | Variable |
| Lifespan | 10 – 15 years | 10 – 20 years |
| Safety | Safer design | Higher fire risk |
| Environmental concerns | Eco-friendly | Potential pollution |
Get free estimates from pellet & wood stove installers near you.
Pellet stove
A freestanding pellet stove installation costs $1,600 to $4,100 on average. A window or wall-mounted pellet stove costs $2,200 to $3,800 installed, while a fireplace-insert pellet stove costs up to $7,000 total.
Pellet stove pros and cons
Pros
Cons

Efficient fuel source
Easy to use
Consistent heat
Environmentally friendly
Automated feeding
Less ash production

Requires electricity
Maintenance required
Limited ambiance
Pellet dependency
Wood stove
A wood stove installation costs $1,200 to $4,500. Installing a wood stove and building a new chimney costs $2,300 to $7,000 total for the whole system. A wood-stove insert costs $1,200 to $3,400 when installed into an existing fireplace.
Wood stove pros and cons
Pros
Cons

Natural ambiance
Renewable fuel
Less expensive
Radiant heat
No electricity required
Long burn time

Labor-intensive
Inconsistent heat
Requires regular cleaning
Large firewood storage space needed
Smoke production
Air quality concerns
Wood vs. pellet stove comparison
Fuel
Wood stoves need a steady supply of logs that take up substantial storage space. A cord of firewood costs $275 to $400. Prices can vary greatly according to the season and local availability.
Pellet stoves utilize compressed pellets made from wood or biomass. Wood pellet prices are $300 to $400 per ton on average or $6 to $10 per 40-pound bag. Pellet bags take up much less space than firewood and are easier to handle.
Appearance
Wood stoves have a rustic charm and provide a cozy aesthetic with large visible flames, adding a touch of warmth and tradition to any space. You can also get old-fashioned wood stoves with a baking oven as a built-in feature.
Pellet stoves have a more contemporary design and often feature a smaller viewing window. These stoves come in a variety of styles to suit modern interiors. However, they are for heating only without cooking features.
Ease of use
Both types of stoves can come with a variety of features like temperature settings, automatic ignition, and remote controls depending on which model you buy.
Wood stove operation is easiest off the grid or in remote areas where firewood is easily available since it keeps running even if you lose power. The downside is that cutting, hauling, stacking, and storing wood is very labor-intensive compared to buying pellets.
Pellet stoves will stop running when the power goes out since they use an electric-powered fan, so they need a back-up power source to run continuously. More maintenance is necessary on some pellet stoves that need frequent cleaning. However, refilling pellet stoves is easier.
Size
Both wood stoves and pellet stoves are 12" to 30" wide and 2' to 3' tall on average. Either stove type is available in a wide range of sizes to accommodate different spaces. You must keep at least 3' to 4' of open space around either stove for fire safety regulations.
However, the depth of pellet stoves can be larger than wood stoves if you order a pellet stove with an extra-large 80-lb. hopper that can hold 2 bags of pellets at a time.
Energy efficiency
Both wood stoves and pellet stoves have energy efficiency ratings of 60% to 75% for older models. Newer high-efficiency models have ratings of 75% to 90% and qualify for tax credits. The energy efficiency depends on the design, the brand, and the quality of the installation.
Installation
Installation of both wood stoves and pellet stoves requires a fireproof hearth below the stove and vents for the exhaust gases and smoke. You can vent both stoves through an exterior wall, through the roof, or through a masonry chimney and fireplace.
Venting with double-wall steel stove pipes through the nearest wall will typically be the cheapest option.

Don't use PVC pipe, dryer vent pipes, or single-wall stove pipe to vent a stove.
Maintenance
Wood stoves require frequent cleaning to remove ash and creosote, with additional care needed to maintain the clarity of glass doors. How often you clean the firebox depends on how much wood you burn and the quality of the wood.
Pellet stoves need consistent pellet refills, regular ash pan cleaning, and occasional professional maintenance checks to ensure optimal performance. Since pellets produce less ash than wood, you typically won't need to clean the firebox as often as a wood stove.
Both wood and pellet stoves require an annual deep cleaning along with a vent or chimney inspection in most states. A professional chimney sweep costs $150 to $375 for a full inspection and cleaning of the stove and attached flue.
Lifespan
Wood stoves last 10 to 20 years with diligent maintenance and proper use. However, its lifespan varies according to the design and quality of the installation.
Pellet stoves have a shorter lifespan of 10 to 15 years, especially with frequent usage. Annual cleaning and regular inspections can extend its lifespan.
Safety
Wood stoves are more likely to create sparks that can cause potential fires. You should carefully watch the fire without leaving it unattended. Follow all safety guidelines.
Pellet stoves are typically safer due to their enclosed design and automated features, but they still require careful operation and regular maintenance. A backup power supply for the fan is important so that if the power goes out, smoke from the stove won't collect inside.
Environmental concerns
Wood stoves utilize an EPA-certified stove and burn dry, well-seasoned wood to reduce their environmental impact. While wood is a renewable resource, concerns about indoor and outdoor air pollution from the smoke remain. Wood burning also raises carbon emissions in the atmosphere.
Pellet stoves are more eco-friendly since they produce fewer emissions and burn pellets made from recycled materials. Ensuring your stove is EPA certified is crucial. However, pellet stoves still use electricity and produce some fine dust that can pollute the air indoors.
Get free estimates from pellet & wood stove installers near you.
Pellet and wood stove alternatives
Alternatives to installing a pellet or wood stove include:
Getting estimates from pellet and wood stove installers
Before hiring a wood stove or pellet stove installer near you, remember to:
Compare 3+ different quotes from experienced stove technicians.

Choose licensed, insured, and bonded professionals certified by:

National Fireplace Institute (NFI)

Chimney Safety Institute of America (CSIA)

North American Technician Excellence (NATE)

American Society of Heating, Refrigeration, and Air-Conditioning Engineers (ASHRAE)

Local hearth & pellet heating associations

Avoid the lowest bids that signal low-quality work.

Read their ratings on HomeGuide and Google.

Request copies of estimates, plan diagrams, heating-load calculations, equipment orders, permits, warranties, and contracts.

Set up a payment plan. Don't pay in full up front.
Questions to ask installers
Ask questions like these before hiring a stove installer:
Can you provide references from your past stove projects?

How many stoves have you installed, and which type are you most familiar with?

Are pellet or wood stoves more common in this area? Why?

Which stove model comes with the most useful extra features?

Are there tax credits or rebates available for this stove?

Will you do a heat-load calculation to size my pellet or wood stove?

What are my options for a hearth or slab underneath this stove?

How much extra is it if you need to add a vent during stove installation?

Do you provide a warranty for the stove and your workmanship?

How much fuel will I need in the winter for this size unit?

Do you offer a service and maintenance plan for annual cleaning?

How much are permits and inspections for this stove?

Does your bid include all labor, materials, old stove removal, and cleanup?

Is any electrical or chimney work needed?

Do you subcontract any part of the installation, like electrical or masonry work?

How long can I expect the job to take?

Do you offer any payment plans?

Will you comply with all local and state building codes for stove installations?

Can you recommend a local firewood or pellet supplier who sells in bulk?

How often will I need to clean out the firebox?