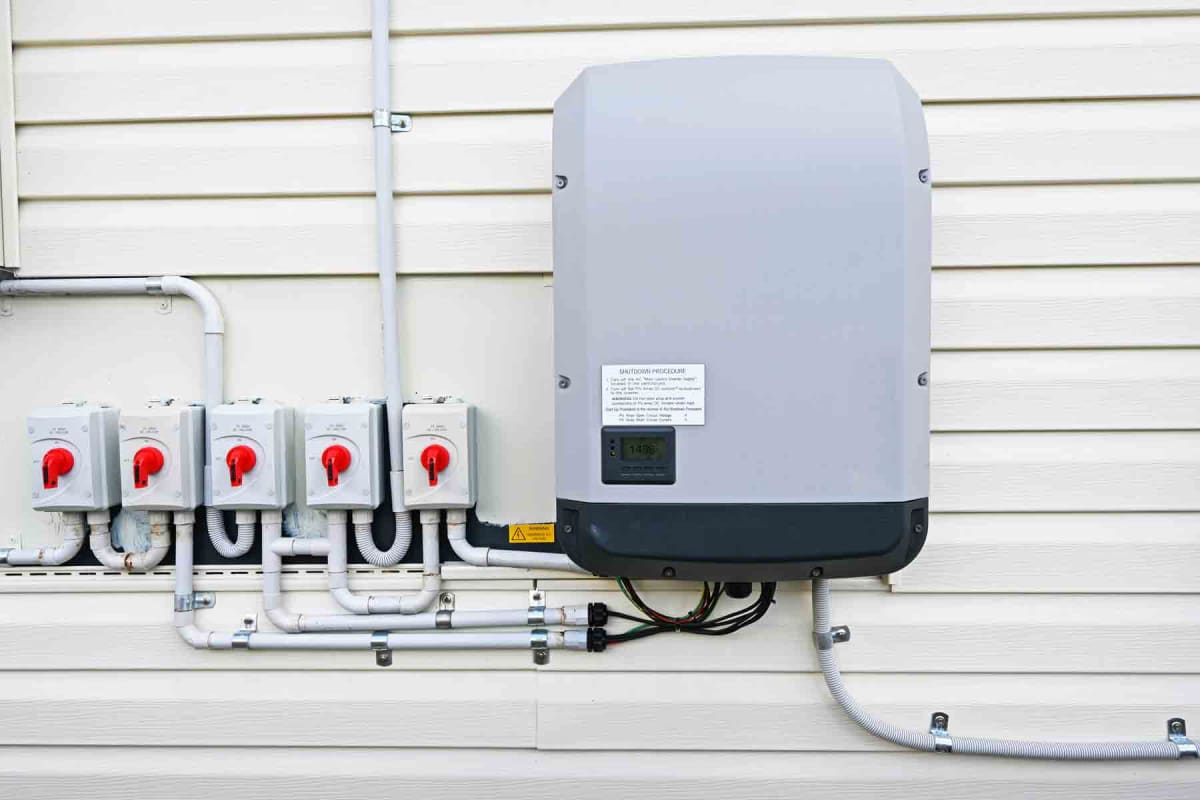 How much does a solar inverter cost?
How much does a solar inverter cost?
$1,500 – $3,000
average installed cost
---
Get free estimates for your project or view our cost guide below:
$1,500 – $3,000
average installed cost
---
Get free estimates for your project or view our cost guide below: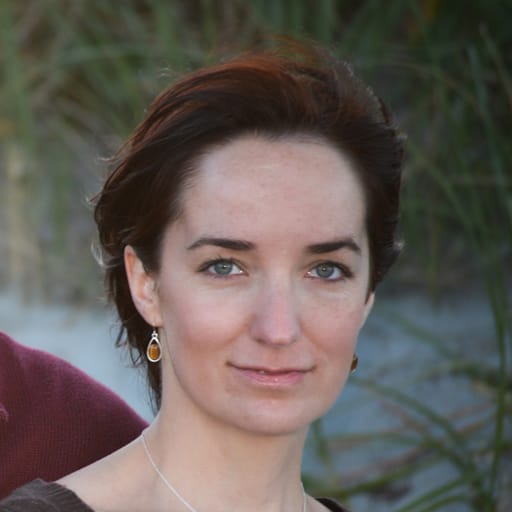 Fact-checked by
Kristen Cramer
Average solar inverter cost
A solar inverter costs $1,500 to $3,000 total on average for a medium-sized solar-panel system installation. Solar inverter prices depend on the size and whether it's a string inverter, microinverter, or hybrid model. String inverter systems cost less up front, but systems using microinverters last longer.
Average solar inverter cost

| | |
| --- | --- |
| National Average Cost | $2,300 |
| Minimum Cost | $900 |
| Maximum Cost | $5,000+ |
| Average Range | $1,500 to $3,000 |
Solar inverter cost typically makes up 6% to 9% of your total solar system cost.

The average cost to install solar panels is $10,600 to $26,500 total (after tax credits), including the inverter.

A solar battery storage system costs $5,600 to $11,200 installed (after tax credits) and may require a separate inverter if it doesn't have one built in.
What is a solar inverter, and what does it do?
A solar inverter is an essential part of a solar-panel system. The inverter turns the direct current (DC) electricity generated by solar panels into the alternating current (AC) electricity needed for most appliances and home electrical needs.
Depending on the type, contractors install inverters directly on the backside of the solar panel, on the side of the house, on the roof, or inside a garage.
Get free estimates from solar panel installers near you.
Solar panel inverter cost factors
Factors that affect solar inverter costs include:
System size – Your inverter's input-wattage rating should be close to your solar panel system's output rating. U.S. residential solar panel systems typically fall in the 5 kilowatt range.

Efficiency – The industry standard for peak efficiency is 97%. More efficient models often cost more.

Power optimizer – Adding a power optimizer costs $50 to $150+ per panel but improves string inverter performance if one panel receives more shade than the others.

Grid-tied vs. off-grid – Most grid-tied systems cost less than off-grid systems since an off-grid solar system requires batteries to stock the energy.

Government incentives – Homeowners can save up to 30% with the federal residential solar energy tax credit when installing the inverter with a solar photovoltaic (PV) system.

DIY vs. professional install – Installing an inverter yourself saves on installation labor. However, the cost of the inverter may be higher since solar contractors often get bulk discounts on these components.

Warranty – Most string inverters have a warranty of 5 to 10 years, while microinverters often carry warranties up to 25 years. Some companies offer an extended warranty for an extra cost.
Types of solar inverters
The two most common inverters are string inverters and microinverters. String inverters install easily and connect several panels together, but one panel's failure affects the whole circuit. Microinverters connect to just one panel each and run independently, so they can cost more initially but perform better.
Benefits and drawbacks of each solar inverter type
Inverter type
Pros
Cons
String inverter
(central inverter)

Affordable
Easy to replace
One inverter connected to multiple panels

Shorter warranty
Not ideal for shady areas
Whole-system failure if the inverter breaks

Microinverter

Better performance than string inverter
Longer warranty
Easier to add panels later

Costs 15% to 25% more than string inverter system
System still functional if one panel fails

String inverter with power optimizer

Improves string inverter performance
May allow for solar battery installation
25-year warranty (some models)

Increases overall system cost
Not compatible with all systems
Dependent on string inverter with much shorter lifespan

Hybrid inverter

Combines panel inverter and battery inverter
Keeps battery charged using grid power

Typically more expensive than other types
Not ideal for shady areas or complex roof layouts
Solar inverter FAQs
Which inverter is best for solar panels?
The best solar inverter depends on your solar-panel system's size and location. String inverters are affordable, efficient, and common for residential solar systems. However, microinverters converting power on each individual panel may be better if some of your panels get shade for part of the day.
How long does a solar inverter last?
String solar inverters last 10 to 15 years on average, and you'll likely need to replace the inverter much sooner than the solar panels themselves. Most microinverters last 15 to 25 years. Be sure to check the warranty time frame and coverage when choosing an inverter for your solar system.
How many inverters do you need per solar panel?
The number of inverters you need depends on the size of your solar panel system and the type and rating of the inverter model. The solar inverter's input-wattage rating should match or be close to your solar panel system's power-output capacity.
One string inverter is typically sufficient for most residential solar systems. Larger systems may require more.

If you use microinverters, you'll need one microinverter for every solar panel, as these devices work individually.
Can you overload a solar inverter?
You can overload a solar inverter, which is a setup typically called "solar clipping." Overloading happens when the amount of electricity generated by solar panels exceeds the input-wattage rating of the solar inverter. Overloading with a string inverter and a multiple panel array is safe.
Some experts recommend using a lower-wattage string inverter than your solar panels' maximum output potential because the maximum output is almost never reached in real-world settings. Output varies with fluctuating environmental conditions, weather changes, and the panel orientation.
Getting estimates from solar inverter installers
Follow these guidelines when searching for a solar inverter installer or solar contractor near you:
Look for contractors who are members of professional organizations like the Solar Energy Industries Association (SEIA), the North American Board of Certified Energy Practitioners (NABCEP), and the American Council on Renewable Energy (ACORE).

Check for positive customer feedback on HomeGuide and Google.

Compare at least 3 estimates with similar details.

Select a licensed, bonded, and insured solar contractor who has been working for 5+ years.

Get a detailed contract and warranty in hand before the work begins.

Avoid making large payments up front. Follow a payment plan instead.

Beware of the lowest estimates that can indicate low-quality workmanship.
Questions to ask a solar inverter contractor
Ask these questions to help you choose the best solar contractor for your inverter installation:
How long have you been in business in this area?

What solar certifications or licensing do you have?

Do you have a list of references I can contact?

What type of inverter do you recommend for my solar panel system, and why?

Have you worked on homes like mine before with my existing solar panel system?

Will you install an inverter for me if I buy the parts?

Does the estimate include all labor, materials, and cleanup fees?

What extra costs might come up during an installation like this?

How long will the installation take?

What method do you use to calculate which size inverter my system needs?

Does this project require a permit, and if so, will you obtain it?

Who should I contact for troubleshooting after the installation?

How long should the inverter last?

What does the warranty cover, and for how long?