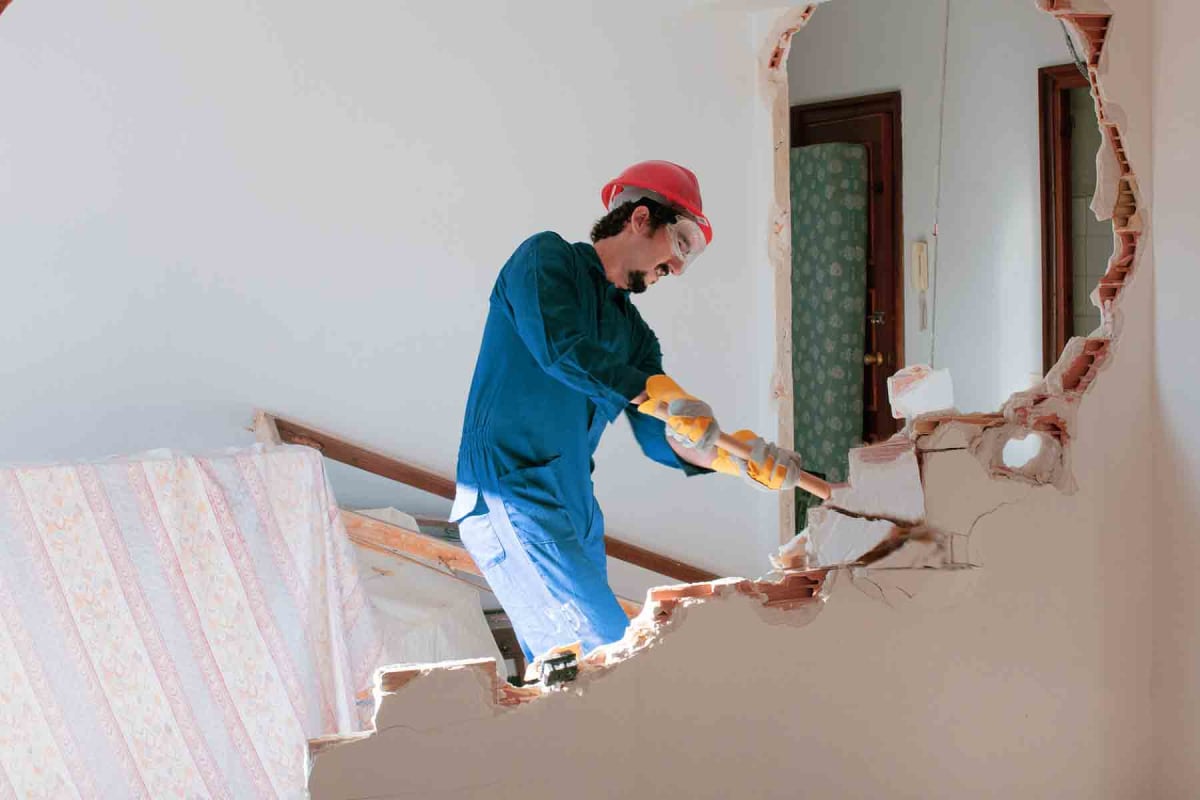 How much does interior demolition cost?
How much does interior demolition cost?
$2 – $8
cost per square foot
$1,000 – $5,000
average demolition cost
---
Get free estimates for your project or view our cost guide below:
$2 – $8
cost per square foot
$1,000 – $5,000
average demolition cost
---
Get free estimates for your project or view our cost guide below: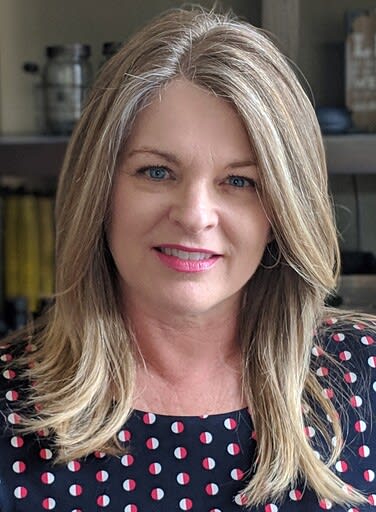 Fact-checked by
Tom Grupa
Interior demolition cost calculator
Interior demolition costs $2 to $8 per square foot or $1,000 to $5,000 for an average demo project, depending on whether you are removing a single wall or floor, demolishing a room, or gutting the house down to the studs. An interior demolition contractor charges $40 to $80 per hour.
Interior demolition cost estimator

| Project | Average cost |
| --- | --- |
| Interior wall | $0.50 – $1.50 per square foot |
| Ceiling | $1.50 – $3.00 per square foot |
| Floor | $1.50 – $3.50 per square foot |
| Fireplace or chimney | $500 – $4,000 |
| Kitchen | $500 – $2,500 |
| Bathroom | $600 – $2,000 |
| Basement | $300 – $5,000 |
| Bedroom / Living room | $200 – $1,600 |
Cost data is from research and project costs reported by HomeGuide members.
Interior walls & drywall demolition cost
Interior wall removal costs $0.50 to $1.50 per square foot for demo only, depending on if the wall is made of wooden studs, brick, or concrete. Debris disposal and follow-up repairs cost extra.
Drywall removal and disposal costs $0.50 to $2.50 per square foot, or about $50 to $250 to remove the drywall and leave the framing intact.
Non-load-bearing walls and empty walls with no electrical or plumbing lines are cheaper and easier to remove than load-bearing walls and those needing utility lines rerouted.

Removing a load-bearing wall requires a structural engineer to ensure the wall removal will not structurally damage the home. Structural engineers charge $100 to $220 per hour.
Ceiling demolition cost
Ceiling demolition costs $1.50 to $3.00 per square foot on average, depending on the type of ceiling. Removing popcorn ceilings costs $1 to $2 per square foot, while drop ceiling removal costs $1 to $7 per square foot. Beadboard and tray ceilings with added materials and trim cost more to remove.
Floor demolition cost
The average cost of floor demolition is $1.50 to $3.50 per square foot, including debris removal. Floating floors are easy to remove since they aren't secured to the subfloor. Glued floors are more time-consuming and costly since the glue must be melted with a heat gun then scraped off the subfloor.
Fireplace and chimney demolition cost
Fireplace and chimney removal costs $500 to $2,500 for a partial removal of everything above or below the roof line. A full demolition costs $2,000 to $4,000, not including debris removal or repairs.
Debris removal and disposal of a fireplace and chimney costs $250 to $650.

Post-demo repairs can cost $1,000 to $2,000 or more to add structural support if needed.
Insulation and asbestos removal cost
Removing asbestos insulation from an attic costs $10 to $25 per square foot, depending on the area size, condition, and accessibility. Asbestos is a hazardous material that causes lung damage and serious health issues when inhaled and must be disposed of according to EPA Laws and Regulations.
Get free estimates from demolition companies near you.
Interior demolition cost per square foot
Interior demolition costs $2 to $8 per square foot, depending on the size of the area and the surfaces being removed. Labor costs account for about half of the total cost, with equipment, permits, dumping fees, recycling fees, and hauling making up the rest.
Common factors that affect the cost of interior demolition include:
Labor – A demo crew charges $40 to $80+ per hour, depending on the crew size. Other labor options include hiring a handyman or a general contractor who can also make repairs and rebuild after the demolition.

Disposal – Renting a dumpster costs $280 to $500 per week, depending on the size. Junk and trash removal costs $150 to $350 per load.

Age of the home – Older homes tend to have higher demo costs since they need more repairs and structural support during demo and are more likely to require hazardous waste disposal.

Job difficulty – Kitchens and baths have more plumbing, heavy fixtures, and appliance hookups that increase demo costs. Materials that are harder to remove like glued-down floors and concrete also increase labor hours.

Accessibility – Expect higher demo rates in hard-to-reach spaces like an attic or basement, where materials must be taken up or down the stairs for disposal.

Hazardous waste – Removing hazardous materials adds to the demolition costs. A contractor must have added safety gear, up-to-date certifications, and adhere to EPA laws and regulations.
Interior demo cost by room
Demolishing an entire room costs from $300 to $5,000, depending on the room and materials being removed. Projects that involve rerouting electrical and plumbing lines have higher costs.
In comparison, gutting a whole house costs $3,000 to $16,000 on average.
Interior demolition costs by room

| Room | Average cost to demolish |
| --- | --- |
| Basement | $300 – $5,000+ |
| Bathroom | $600 – $2,000 |
| Bedroom or living room | $200 – $1,600 |
| Kitchen | $500 – $2,500 |
Basement demolition cost
Basement demolition has a wide price range of $300 to $5,000 or more. Project costs will differ depending on the finish level of the basement. Basement jobs that include removing concrete, leveling floors, or moving sewer lines have the highest costs.
Basement demo often leads to other projects, including:
Bathroom demolition cost
Bathroom demolition costs $600 to $2,000, depending on the size and number of features removed. A large primary bath with double sinks, a water closet, separate shower, and a tub costs more to demo than a small 3-piece bathroom. Common bathroom projects may include:
Kitchen demolition cost
Kitchen demolition costs $5.00 to $12.50 per square foot or $500 to $2,500 for an average-sized kitchen demo. Kitchen demo projects that include pipe removal, tile removal, and fixture removal have the highest costs.
Removing the kitchen cabinets costs $150 to $400 for a small kitchen or $450 to $800 to demo the cabinets in a large kitchen. If you plan to repurpose the cabinets or counters, they must be removed carefully, increasing demolition costs.
Demolition costs by material
Demolition costs vary depending on the materials being removed. Some materials are easier to remove or require less equipment, which reduces demo costs.
Get free estimates from demolition companies near you.
Materials like carpet and floating floors are easier to remove than materials like linoleum and tile that are glued to the surface.

Concrete reinforced with steel bars is harder to demolish than concrete that is wire-mesh reinforced, increasing demo costs.
Interior demolition FAQs
What is interior demolition?
Interior demolition involves removing any non-structural building components. Minor demo projects involve removing walls, ceilings, floors, or fixtures from a room. Major demolition projects involve gutting an entire space down to the studs.
How can I save money on my demo project?
The best way to save money on a demo project is to do a bit of the work yourself. Doing easy DIY projects like removing carpet or wallpaper frees up your demo crew to work on heavier and more difficult items.
Another way to save money on your project is to salvage and resell items like cabinets and countertops that are still in good condition. Even if you don't want to resell them, you can often donate fixtures and appliances to a local charity, provided they are in good condition.
Should I do interior demolition myself?
While you can save money by doing interior demolition yourself, it is not recommended unless you have the DIY skills, tools, and safety equipment. Demolition can be dangerous, messy, and time-consuming. Hiring a qualified contractor ensures no one is hurt and the home doesn't sustain any structural damage.
Hiring interior demolition contractors
When hiring a demolition contractor for your interior demo project, be sure to:
Look for a certified demolition contractor in business for more than 5 years.

Compare multiple estimates from licensed, bonded, and insured contractors.

Browse reviews from past clients on HomeGuide and Google.

Never select a quote based on price alone. Consider their reputation and workmanship.

Ask for a detailed estimate, contract, and warranty in writing before the demo begins.

Never pay in full before the project starts. Work out a payment plan for work completed.
Questions to ask
An interior demo project is a commitment of your time and finances, so asking these questions can help you get the best demo contractor for your project:
What experience do you have with interior demolition?

How many interior spaces have you demolished in the last year?

Do you charge an hourly labor rate or a flat-rate fee?

Do you carry the necessary licensure, insurance, and surety bonds?

Does your estimate include a dumpster and waste disposal?

What happens if you detect asbestos in my attic insulation during the demo?

How long will the demo take?

May I salvage the counters or cabinets for another project?

Will you provide a list of references with contact details?