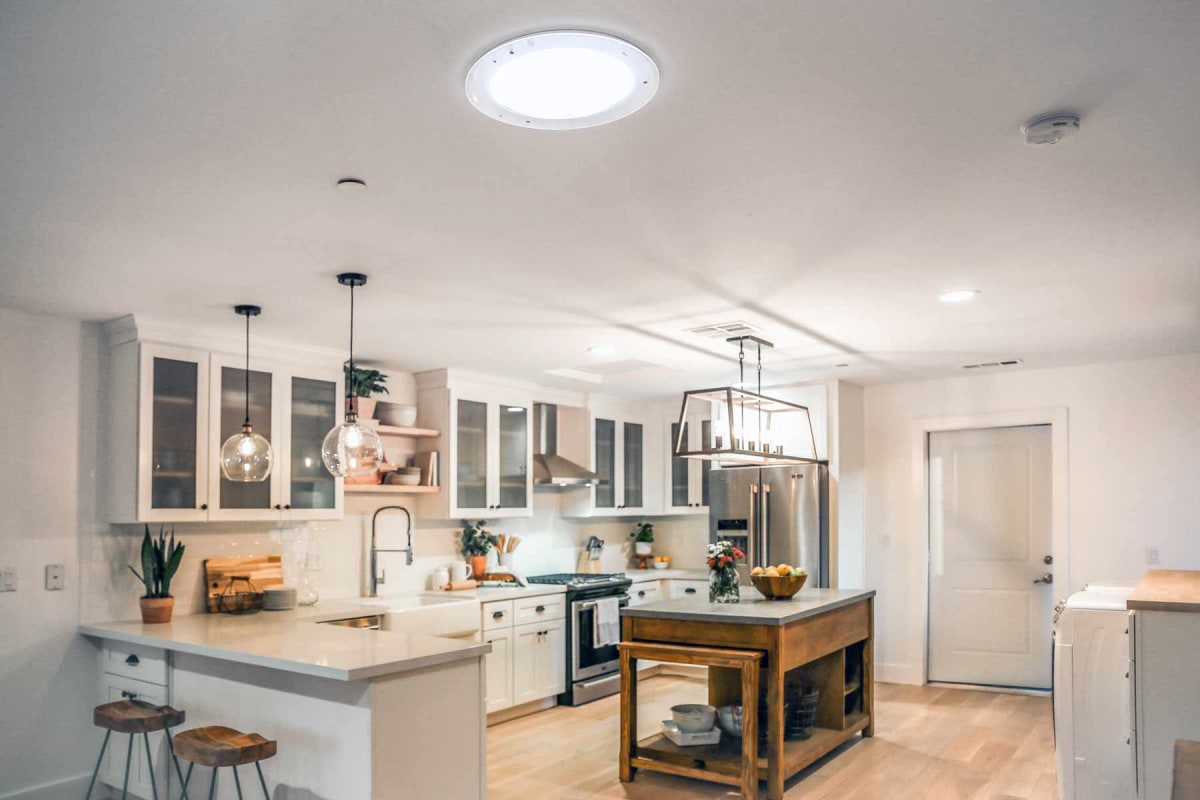 How much does a solar tube cost?
How much does a solar tube cost?
$600 – $1,100
average installed cost
---
Get free estimates for your project or view our cost guide below:
$600 – $1,100
average installed cost
---
Get free estimates for your project or view our cost guide below: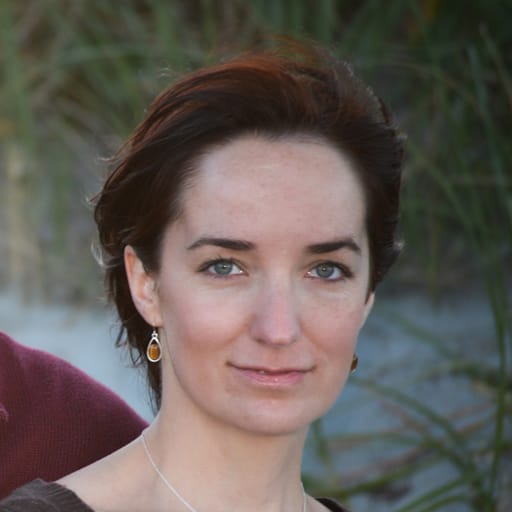 Fact-checked by
Kristen Cramer
Average solar tube cost
A solar tube costs $600 to $1,100 installed on average, with most homeowners paying about $850 total. The cost of solar tubes alone ranges from $200 to $500+, depending on the brand, size, and model. Solar tube installation cost depends on the tube size, number of tubes, roof material, and climate.
Average sun tube cost

| | |
| --- | --- |
| National Average Cost | $850 |
| Minimum Cost | $400 |
| Maximum Cost | $2,500 |
| Average Range | $600 to $1,000 |
Get free estimates from skylight installers near you.
What is a solar tube?
A solar tube is a reflective metal tube that carries light from the roof through to the home's interior. The roof end has a weather-proof acrylic globe or flat glass cover. On the interior, where the tube ends and diffuses light into the room, the solar tube looks similar to recessed lighting.
Solar tubes are also called sun tunnels, tubular skylights, light tubes, or sun tubes.

Most solar tubes are 10 to 14 inches in diameter, though some models go up to 22 inches.

A solar tube may be flexible or rigid. Rigid tubes reflect the most sunlight into the home.
Solar tube installation cost factors
Several factors affect solar tube installation cost, including:
Size – While there is some overlap in the pricing, larger solar tubes typically cost more than smaller models. Sizing ranges from 10" to 22" in diameter.

Number of tubes – Most solar tube installers charge by the tube. Your total cost will be higher when installing multiple solar tubes as opposed to just one, but depending on the company, you may pay less per tube.

Roof material – Most solar tubes were designed for installation on an asphalt roof. Installing a sun tunnel on a different roofing material may add $100 to $150+ for the contractor to install a special adapter.

Location – Homes in humid climates may need to wrap the solar tube with R-15 or R-19 insulation to prevent condensation build up. By itself, insulation costs $0.80 to $2.60 per square foot installed.

Number of stories – Bringing sunlight from the roof to the first floor of a 2-story home will increase the total cost. This type of installation requires additional tubing length, and the installer may need to cut through the floor and work around other components like plumbing, HVAC, or electrical lines.

Accessories – Adding extras like a night light or dimmer increases the cost by $50 to $350+, depending on the feature and brand.

DIY vs. professional install – Installing a solar tube yourself can save $200 to $300+, but DIY installation may void your roof warranty.

Tax credit – Installing a tubular skylight with a solar-powered night light may qualify for a 30% tax credit.
Materials
The cost for a solar tube alone ranges from $200 to $500+, depending on the size, brand, and model. 10-inch and 14-inch tubes are the most common sizes as they fit between standard 16"-on-center roof rafters.
Solar tube prices by size

| Solar tube size | Average price (materials only) |
| --- | --- |
| 10-inch tube | $200 – $400 |
| 14-inch tube | $350 – $600 |
| 18-inch tube | $400 – $750 |
| 21- or 22-inch tube | $500 – $1,000+ |
Labor
Labor rates for solar tube installation vary depending on whether you hire a skylight installer, roofing contractor, solar contractor, or go through the solar tube dealer. While it is tempting to save money with a DIY installation, this may void your roof warranty or result in costly roof damage.
Solar tube vs. skylight
Solar tubes cost $600 to $1,100 installed on average, while new skylight installation costs $1,600 to $4,200. Both sun tunnels and skylights bring natural light indoors and help lower your electricity bill, but they have some significant differences that may make one choice better than the other for your home.
Solar tube and skylight comparison
Factor
Solar tubes
Skylights
Average installed cost
$600 – $1,100
$1,600 – $4,200
Pros

Budget friendly
Compact design
Can fit in small areas a skylight cannot
Simple installation
Low maintenance
Fewer leaks compared to skylights
Sunlight reflected and diffused, no glare
Adds light but not heat
Blocks UV rays
Energy efficient; 100% natural light
May qualify for tax credit

Highly customizable
Adds ambiance
Makes the room appear larger
Provides better light than a solar tube
More control over the light quality
May increase resale value
View of the sky or outdoors
Electricity savings

Cons

Limited design options
Does not add ambiance like a skylight
Not as much light output as a skylight
Limited control over light output
Cannot see outdoors
Needs sunlight to work
May require a dimmer to block the natural light when needed
Not suitable for all roof types

Expensive
More complicated installation involving drywall and framing changes
Higher leak potential
May produce glare
Requires filtering to block UV rays
Get free estimates from skylight installers near you.
Solar tube FAQs
Are solar tubes worth it?
Solar tubes are worth it for their potential energy savings, especially if you spend significant daylight hours at home and use electricity to light your home most of the day. Mount the solar tube on the southwest side of your roof for the best results.
For even more energy savings, consider installing solar panels to help cover your electricity needs during non-daylight hours. Solar panel installation costs $10,600 to $26,500 on average for labor and materials, after the 30% federal tax credit.
Who installs solar tubes?
A skylight installer near you can typically install a solar tube. You may also find solar tube installation through roofing contractors, solar contractors, and directly through solar tube dealers.
Where can you install a solar tube?
Solar tubes can be installed almost anywhere you're looking to add some natural light. These sun tunnels require less space than a traditional skylight, making them ideal for smaller spaces where a skylight may not be possible, such as a bathroom, laundry room, closet, or hallway.
Most solar tubes are not suitable for high-pitched roofs.

Avoid installing a solar tube in a media room where screen glare could be an issue.

You can install a solar tube in a two-story home for light on the first floor, provided you have a closet or place to run the tube through to the first floor.
How long do solar tubes last?
A professionally installed solar tube lasts 10 to 20+ years on average. The quality of both the installation and the materials impacts the product's lifespan.
Getting estimates from solar tube installers
Before hiring a tubular skylight contractor or roofing company to install your solar tube, be sure to:
Compare 3 to 5 estimates from licensed, bonded, and insured companies that have been in business for 5+ years.

Check out solar tube installer reviews on HomeGuide and Google.

Ask for local references.

Avoid hiring the company with the lowest bid as quality may suffer.

Have a detailed contract and warranty in hand before the installation begins.

Avoid large upfront payments, and don't make the final payment until the work is complete.
Questions to ask a solar tube contractor
Installing a solar tube involves cutting through your roof and requires knowledge and skill to ensure a proper, leak-free installation. Asking the right questions will help you select the best solar tube installer for your project:
How long have you been in business in this area?

What experience do you have with solar tube installation?

Have you ever had customers report roof leaks or other problems after the installation?

What solar tube do you recommend for my space, and why?

Are you a member of any professional organizations?

Does the estimate include all materials, labor, permit fees, and cleanup?

Will the installation void my roof warranty?

Do you offer a dimmer and a solar-powered night light attachment?

How long will the installation take?

Are you familiar with all the local building codes related to this type of installation?

How long is your warranty, and what does it cover?